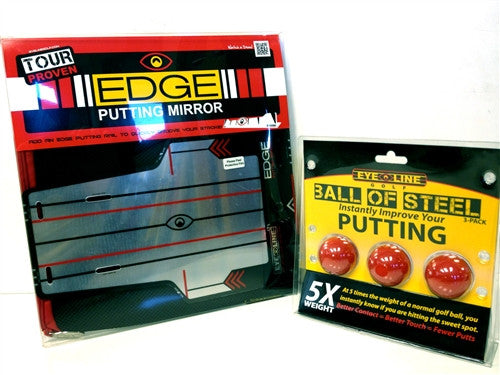 EDGE Mirror & Ball of Steel Package
EDGE Putting Mirror Product Tour >>>
Consistent SETUP and hitting the ball SOLID are two of the most important elements in putting.
Tour players and great teachers are obsessed with "checking their lines". They know that starting on line and hitting the ball solid is half the battle.
EDGE Putting Mirror: 
The Edge Putting Mirror gives you consistent setup
Putter Alignment Lines - Make sure you are aimed at your target and that your putter face is square to that line.
Built-in Gate Drills - Test how your stroke is performing, and make the quick adjustments.
Extra Durable - Non-skid polyethylene base and uniquely engineered design pro-longs mirror life and adds strength.
Ball of Steel:
Getting Started with the Ball of Steel
Start your practice with the Ball of Steel by trying to roll putts a few feet, make about 25 strokes. You won't be used to the weight of the ball, so don't be surprised if you double hit a few before you learn to carry your momentum through the ball. You will get the hang of it by your 10th stroke. It's a blast!
The Ball of Steel Demands a Square Putter Face
Since the ball is so heavy, it rolls absolutely true off the face... it will not be bumped offline :)  Learning to hit the ball solid has never been so quick.